Creating the Meeting/Call
Microsoft Teams is a very powerful tool for conference calls. It can be used for internal conference calls without a license, but with the addition of an Audio Conferencing license, you can arrange meetings and add in external contacts to your calls.
In order for a call to have a phone number and ID for external callers, the call must be scheduled as a meeting.
To begin, open Microsoft Teams either on your PC/Laptop or your Phone. Go to the Calendar tab and click the + to create a meeting.
Give the meeting a name, add the participants within your organisation you'd like in the call, set the time/date of the call and click Save. You can also set the meeting to repeat, if it's a regular occurrence. The participants you have chosen will receive a meeting request and calendar invite automatically.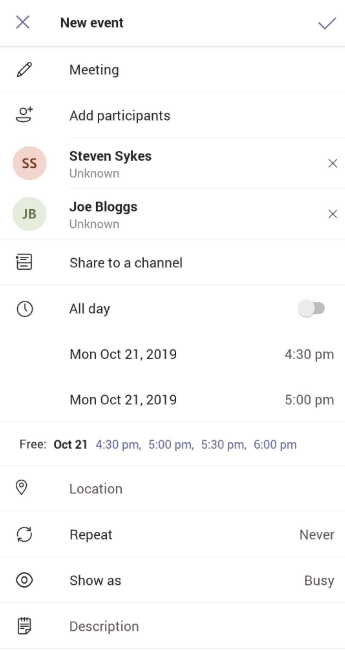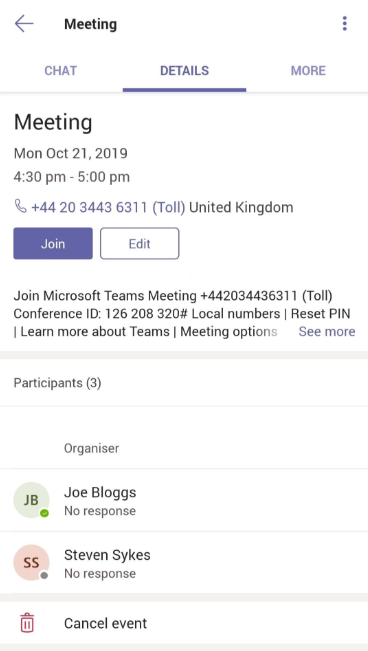 Once you have clicked Save, you will notice the meeting is in your calendar. The meeting will also go into the invited participants calendar. Everyone invited will be able to see the meeting details.
You can click on the meeting to view the details either on your PC/Laptop or your Phone/Tablet. There is a phone number and call ID within the meeting details.
If you wish for an external contact to join the call, they just need to call this number to join the meeting and type the ID when prompted and they will be automatically added into the call via their phone.
Frequently Asked Questions
I don't see a phone number or ID on my meeting?
You'll only see a phone number and ID on the meeting when the organiser or one of the attendees has an Audio Conferencing license. Heliocentrix can check this for you and add one if required. Just give us a call on 01732 600171 or email us on support@heliocentrix.co.uk.
Are the calls expensive for external callers?
The phone number for meetings will be a local number in your area. Typically, in the UK this will be a London 0203 number and as such the call would be included in most UK mobile and landline call bundles.
I have a caller from outside the UK, is there another number they can call?
If you have a caller from outside of the UK, click on "Local Numbers" in the meeting details and you will be presented with phone numbers around the world which you can call to join the meeting. If you have several callers from different countries, they can call their local number and use the same ID to join the same meeting.
How do I know an external caller has joined my meeting?
When the external caller calls in and provides the ID, they are asked to specify their name. As they are added into the call, the other participants will hear an automated message saying "*Contact Name* has joined the call".