We are delighted to announce that we are now a Gold Microsoft Partner.
Huge congratulations to the members of our team who passed the rigorous Microsoft exams and skill validations. Thank you all for your hard work in helping us achieve this.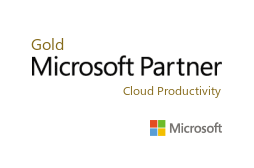 What is a Gold Microsoft Partner?
The Microsoft Partner Network is a community of certified Microsoft experts around the world. Any company can sign up as a member.
To advance to Gold Microsoft Partner status, you need to pass a series of exams and skill validations. And your business needs to achieve the high performance standards set by Microsoft.
Microsoft Gold competencies
Our Gold status relates to two specific competencies:
Small and midmarket cloud solutions
This demonstrates our excellence in providing cloud productivity and security solutions to small and medium sized business, using Microsoft 365.
Cloud productivity
Our second competency reflects our skill in delivering innovative Microsoft 365 solutions. Helping businesses to get the most out of cloud-based applications such as Exchange, SharePoint and Teams.
What does this mean for you?
Gold accreditation demonstrates that we have a high level of expertise across a range of Microsoft products and services, which we use to the benefit of our clients.
As part of this network, we gain access to exclusive technical information and support from Microsoft. This resource enables us to pass on these new ideas and developments to you.
Microsoft services
Our Gold Microsoft Partner status spans our Microsoft services, including:
Call us on 01732 600 170 to discover how our support could be "worth its weight in gold" to your business.