Most office workers have now been using MS teams with its video conferencing and chat functionality for some time. However, many of our clients are still only familiar with a fraction of what Teams can do. Have you got to grips with the webinar function and what it can do for your business yet?
If not, read on …
Expand your communication with your teams and clients
The webinar functionality in Microsoft Teams enables you to organise webinars for up to 10,000 participants, therefore webinars are an excellent way to share your message with a large number of people anywhere in the world.
In contrast to a standard Teams video call, a webinar is an online broadcast where you can allocate a presenter role to specific invitees and determine the level of interactivity you need to communicate effectively. This could be a simple presentation (more like a broadcast) or a more interactive session with different levels of audience participation.
Webinars are increasingly used to share important information within businesses, engage with prospective purchasers or provide support services to existing clients.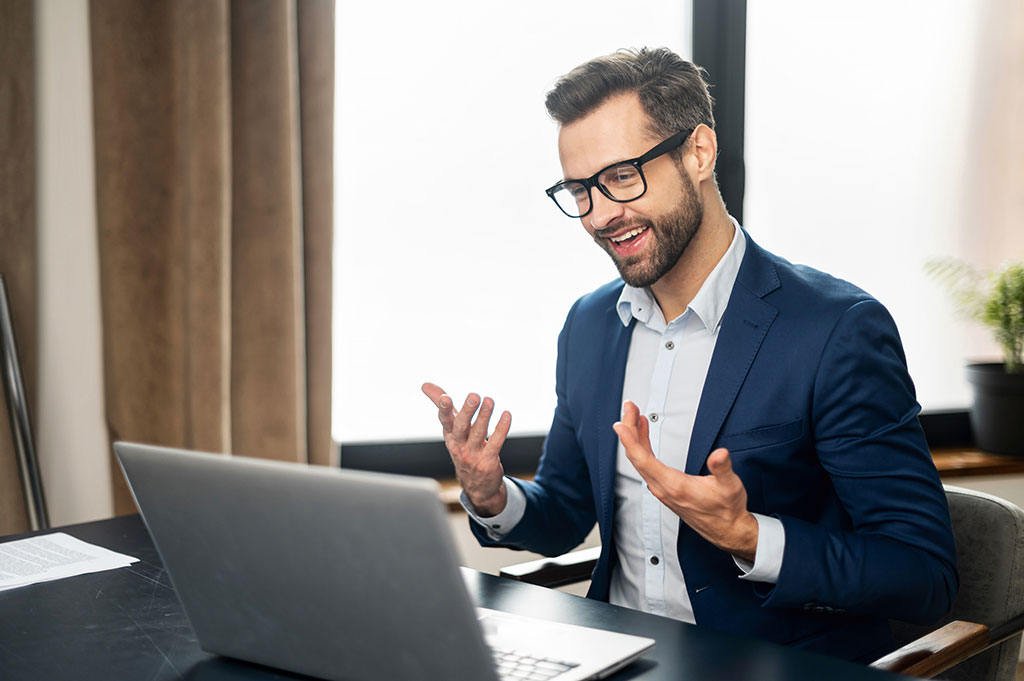 Setting up a webinar in Microsoft Teams
If you use Microsoft Teams then you already have its webinar functionality at your fingertips.
The Teams webinar utility provides you with a customisable registration process. Depending on what you need, you can choose Everyone to allow anonymous users to join or stick to Everyone in the organisation, allowing only users within your organisation to register.
Teams will make things easy for you by providing custom registration pages and allowing you to create attendee emails.
Microsoft Teams webinar attendee limit
As with any meeting, it's important to know the maximum number of people you can accommodate.
You can register up to 1,000 attendees for a fully interactive webinar and this function is available to users on all Microsoft license plans. For those with a Microsoft Enterprise license, you can also host "Live Events" with up to 10,000 attendees, who will have a view-only experience.
If you already have an enterprise license, Microsoft will keep things simple for you  by seamlessly scaling up your webinar once you reach the 1,000 attendee limit. More attendees will be able to join, and will join in view-only mode, up to a limit of 10,000 attendees. (NB: Microsoft had increased the limit to 20,000 during the pandemic, yet have announced that this will drop back down to 10,000 on 31 December 2022). In addition to general attendees, your webinar can include multiple presenters, as chosen by the webinar organiser.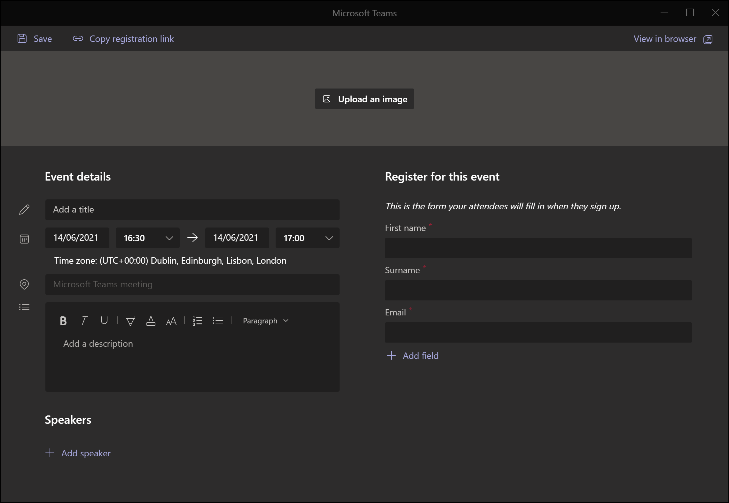 Host a webinar in Microsoft Teams
When it comes to hosting and delivering your webinar, you have a suite of services within Teams to assist you.
You can use the standard Teams presentation option ("Presenter View") and add in the functionality of PowerPoint Live. This organises your screen so you can see your notes, audience, upcoming slides and chat panel, all in one view.
The chat window can be used to encourage interaction, particularly helpful if you choose to mute attendees for some or all of the webinar. Chat can also be employed to create polls or surveys to launch during your webinar and seek real-time feedback.
The usual Teams reactions are available, allowing attendees to share emojis on screen or raise their virtual hand to get your attention.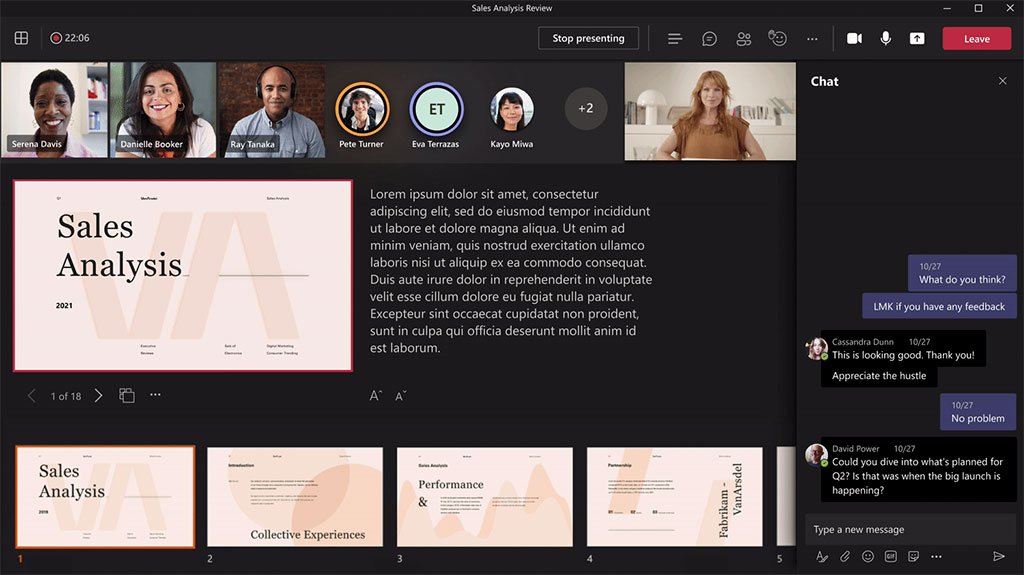 Using the Presenter modes in Microsoft Teams webinar
As well as the more standard way of presenting Powerpoint slides, you can also use presenter modes to overlay your image on your slides. You can choose between Standout, Side-by-side, or Reporter layouts in a Teams webinar.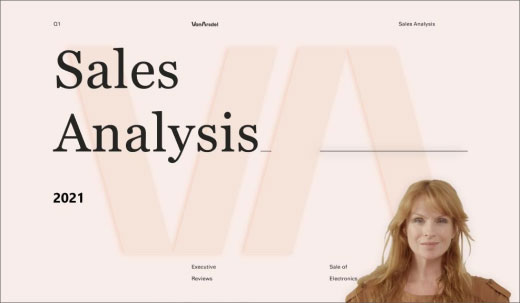 Following up after your event
Once you've completed your event, you want to make the most of all the contacts you've made, particularly if it was an external webinar for prospects or clients.
The Teams webinar function allows you to produce an attendee report, so you can feed this into your CRM application to manage your post-event follow up activity. If you use Microsoft's Dynamics 365 marketing capability, your attendee information can feed directly into this, providing further opportunities to build engagement and increase conversion.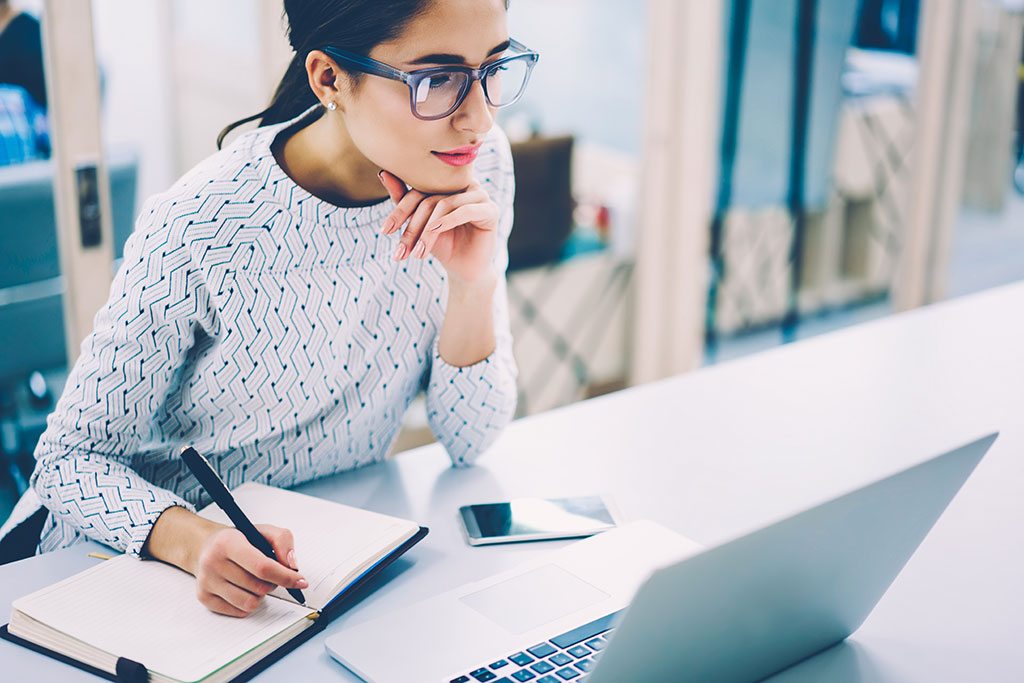 Want to find out more about using Microsoft Teams webinars to communicate professionally with the right audience?
Call our team of friendly Microsoft experts, who will be happy to help.
Contact: 01732 600 170.