In today's fast-paced business environment, seamless communication is paramount. Whether it's phone calls, messaging, video conferencing, or webinars, having a unified platform can make all the difference. That's where Microsoft Teams Phone comes into play. As a Managed Service Provider (MSP), we've recently been trialling Teams Phones and have rolled it out to some clients.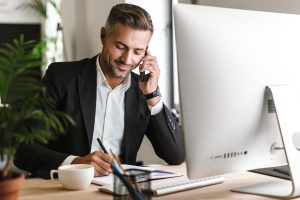 Here's our in-depth Microsoft Teams Phone review:
1. Centralising Business Communications
Microsoft Teams Phone is more than just a phone system. It centralises all business communications into a single piece of software. With Teams Phones, you can manage phones, messaging, video calls, and webinars all in one place. This integration not only streamlines operations but also enhances collaboration and efficiency.
2. Receive Calls on Your Mobile Device
With Teams Phones, you can receive calls from your dedicated Teams Phone number onto your mobile device. This means you can take work calls without having to give out your personal number or carry a second device. It's convenience and privacy rolled into one.
3. Quick and Easy User Management
Tied into your Microsoft 365 licence, Teams Phones makes it quicker and easier to close down users that leave and set up new users that join. This seamless integration ensures that your business remains agile and responsive to changes in staffing.
4. Flexible Licensing Options
All licences for Teams Phones are month by month, so there is no annual commitment required. This flexibility allows your business to adapt to changing needs without being tied down by long-term contracts.
5. Forward Your Teams Phone Number
Going on annual leave, on the road, or otherwise occupied? You can forward your Teams Phone number to your mobile or to another team member, colleague, or administrative assistant. This ensures that your clients and colleagues can still reach someone in your absence.
Conclusion
Microsoft Teams Phone is revolutionising the way businesses communicate. Its integration, flexibility, and innovative features make it a must-have for modern businesses looking to stay ahead of the curve.
Get in Touch
Interested in discussing a business phone system tailored to your needs? Contact us today to explore how Microsoft Teams Phone can transform your communication strategy. Your next step towards seamless communication is just a call away.
Microsoft 365
Interested to learn more about 365 and the comprehensive suite of software it includes? Click here to find out more or Contact Us for a free 15 minute consultation.