If you're using Microsoft 365 you've probably come across Viva in one form or another. Perhaps you've received emails from Viva summarising your upcoming activity, providing tips on working more productively or encouraging you to consider your digital wellbeing. Or maybe you use Viva through Teams to check in on your stress levels or send a message of thanks to a colleague.
But this is just the tip of the iceberg – Viva can do much more to support employee wellbeing, development and engagement.
In this article we look at what Microsoft Viva is and how you can make the best use of it for your organisation.
What is Microsoft Viva?
Microsoft Viva is an "employee experience platform" which combines all your organisation's communications, knowledge and learning into intuitive dashboards based in existing Microsoft 365 apps such as Teams and Sharepoint.
It aims to increase employee engagement, productivity and wellbeing.
There are currently four elements to Microsoft Viva.

Viva Insights
Microsoft Viva Insights focuses on creating a balance between productivity and wellbeing, particularly in a hybrid working environment.
Its main interface is through Microsoft Teams, where employees see a dashboard summarising their actions for the day. It encourages them to block out ("protect") time to focus on particular tasks, make space for meeting-free days, or take a break for a quick mindfulness activity.
This dashboard is created by collating information from various Microsoft apps, including your emails, calendar and Teams activity.
Viva Insights also help you to collaborate more effectively and courteously. For example, you can set it to delay delivering emails until a time when the recipient is at work (and set your own working hours so they can reciprocate).
As well as the Teams interface, Viva Insights is also used to generate daily emails, for example encouraging you to reserve time for important activities: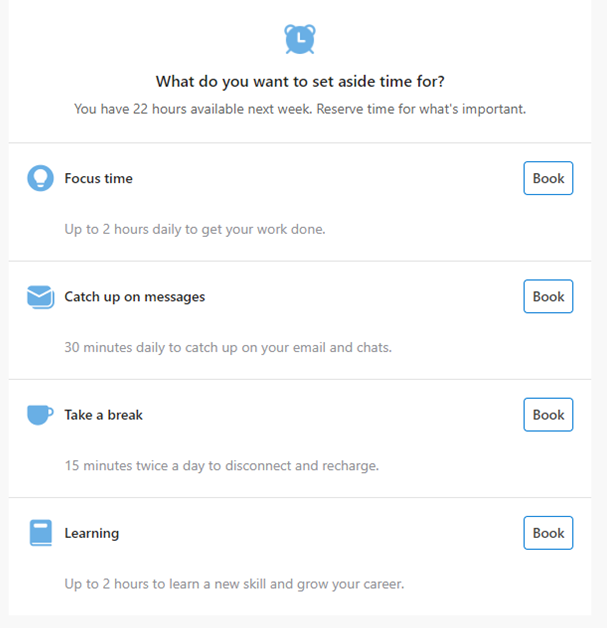 At the end of each month it sends you a summary of your activity, who you've collaborated with and how well you've maintained your work life balance.
These insights are also provided to managers on an aggregated basis (not on an individual level) so they can review working habits across their team. This is a useful tool for optimising team performance and to provide an early warning system for issues such as burnout.
Microsoft are currently developing meetings-related functionality for Viva Insights, to support you in planning and running meetings more effectively.
Viva Topics
Microsoft Viva Topics accumulates information about your business in an easy-to-access format which is available to all employees.
It uses machine learning artificial intelligence to identify common topics and create a page of information about each one, including links to related files, people in your organisation who are involved with or interested in the topic, and a visual guide to other commonly associated topics. Pages can also be set up manually. Every page can be edited by users, ensuring that the information remains accurate and up to date.
Each topic page is distilled into a topic card. When a subject is mentioned, for example in a Microsoft Teams chat, Viva Topics will automatically add a hyperlink onto the topic title, so that users can view the topic card as a pop up, clicking through to the full topic page for more information. The same process applies in Microsoft Sharepoint, Outlook, Bing and Yammer.
Over time Viva Topics will create a highly detailed yet easily accessible repository of all your company knowledge, immediately available to your team.
Viva Learning
The Viva Learning system enables you to bring together all your people development options into one central hub.
This is accessed through a Microsoft Teams interface which gives your employees access to learning opportunities, such as bookable courses or self-service webinars.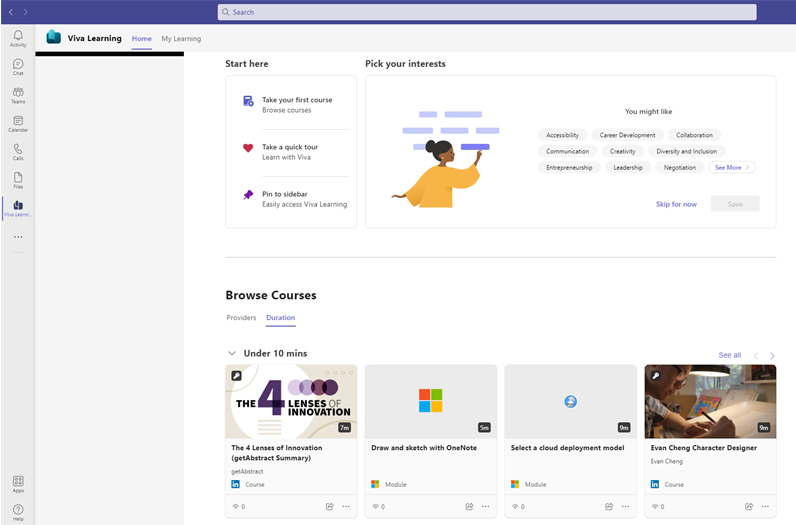 As well as incorporating your in-house training and development, your employees can also use Viva Learning to access thousands of courses from organisations such as LinkedIn, SAP and, of course, Microsoft.
Viva Learning can integrate with many existing learning management systems and content providers.
Each employee's learning is tracked, providing them with an overview of their development, as well as giving your management and HR teams valuable insights.
Access the Microsoft Viva Learning demonstration.
The aim of Microsoft Viva Connections is to improve engagement and interaction among your employees. It does this by bringing together all organisational communications into one social-media-esque interface.
Viva Connections, which is accessed via Microsoft Teams or Sharepoint, provides access to your company's news, conversations and communities. It encourages inclusive sharing of information across your organisation (not just top down) and conversations beyond each employee's normal peer group.
You can customise the branding and curate the content on Viva Connections, ensuring that, while each individual will receive a personalised view, everything is still in line with your overall mission and values.
Microsoft offers integrations between Viva Connections and partners such as Qualtrics and Workday. Viva Connections also provides a centralised point through which your people can access the other Viva elements such as Viva Topics.
Objectives and Key Results (OKR) app
The next development for Viva will be an OKR element, which will focus on each teams' objectives and progress against them.
As well as providing a useful project tracking tool, the aim is that this will help employees to feel that they're working together towards a collective goal and that they can see their own personal impact on progress.
The benefits of Microsoft Viva
The ultimate aim of all four elements of Microsoft Viva is to make it easier to work productively and happily in a hybrid environment.
Increased productivity
Many facets of Viva support productivity:
Viva Topics ensures that everyone in your organisation has quick and easy access to the information they need.
Viva Insights helps your people to dedicate time to focus on key tasks, and to recharge through breaks and mindfulness.
Insights also provides you with valuable management information so you can support your teams to achieve higher performance levels without risking their wellbeing.
Through Viva Learning your people will have access to a wealth of information to help them develop their job skills and personal capabilities.
Increased engagement
Increasing employee engagement doesn't just mean getting better results in your end of year satisfaction survey. It can make a material difference to your bottom line. Gallup research shows that businesses whose employees are highly engaged see a 41% reduction in absenteeism and a 17% increase in productivity.
Viva helps your teams to feel a sense of belonging and engagement in many ways:
Throughout the Viva suite there is an emphasis on personal ownership, whether that's through managing your own time or updating the collective company knowledge in Topics.
Viva Learning helps your people to seek out new development opportunities and encourages them to learn as and when it suits them.
Viva Connections helps everyone in your business to focus on your mutual goals and values.
Connections also encourages collaboration across your organisation, giving everyone an equal voice, whoever they are and wherever they work.
Viva Insights supports your commitment to employee wellbeing, enabling your managers to better understand, and better care for, your people.
Increased retention
Keeping your people engaged and motivated, while avoiding burnout, will also result in higher retention rates.
The Gallup research looked at the link between engagement and retention, showing that where people were highly engaged in high-turnover organisations, employee turnover reduced by 24%. In low-turnover organisations highly engaged business units saw 59% less employee attrition.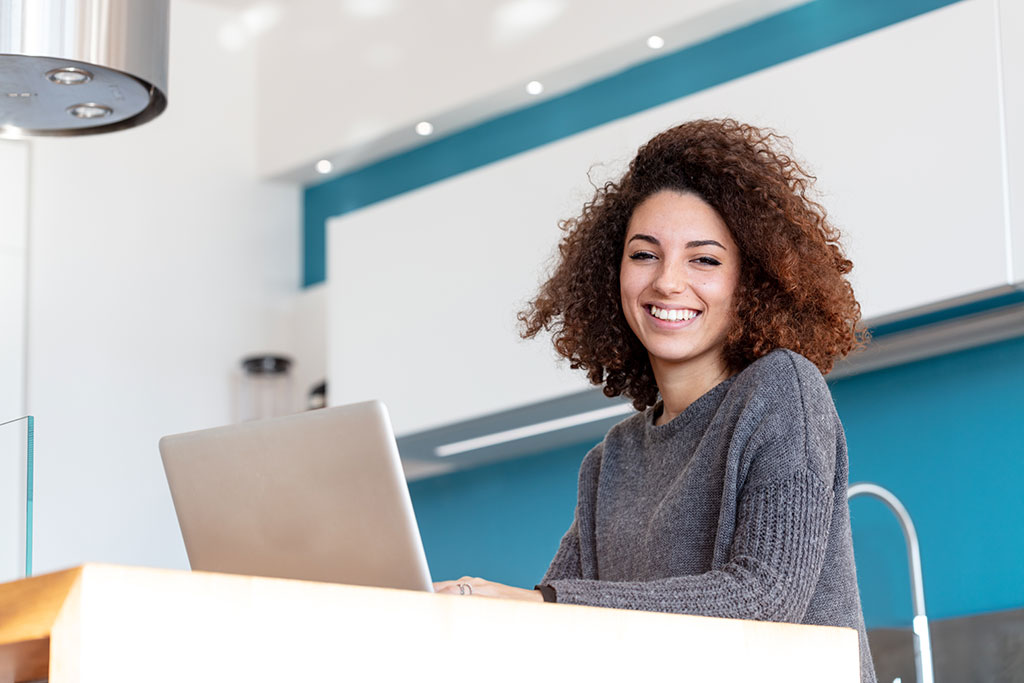 The disadvantages of Microsoft Viva
As with any new application, there is a certain amount of adaptation required to get the most benefits from using it. Because Viva is so focused on collaboration and communication it's important that it's implemented wholesale throughout your organisation – otherwise no-one will achieve the full benefits.
Big brother
There may be some reticence to use Viva because it can be seen as a way of spying on employees, particularly because of the management information generated by Viva Insights.
When implementing Viva it's important, therefore, to be clear with your teams about how the management information is aggregated and anonymised, and to reassure them about your motives for using it. Otherwise, you risk employee disengagement and attempts to work outside the system so they don't feel they're being 'tracked'.
How much does Viva cost?
If you use Microsoft 365 you will already have the full Microsoft Viva Connections functionality, and some of the Viva Learning and Viva Insights capabilities.
The full Microsoft Viva Suite is charged at a per user price, please enquire for details.
Is Viva right for your organisation?
If you're already using Microsoft 365 then the full Viva could be a beneficial next step, particularly if your people are working remotely or hybrid.
We provide IT support in Kent and across the south east to define their technology strategy and understand where systems such as Viva could be of tangible benefit. Get in touch to arrange a 15 minute call to find out more.