Spending more time at our computers doesn't have to mean we suffer from more headaches.  Having the right lights and monitors can help dramatically reduce suffering.  How much do these headaches cost your business?
During our annual review with clients we have noticed an increase in the number of cases where clients have been commenting on 1 or more of their staff suffering from headaches.  There can be many reasons for this ranging from bad ambient lighting in the office, through to bad posture and eye strain.
The human eye is a fantastic piece of engineering, it is adaptable to many different situations and will work hard to accommodate whatever conditions you put it under. This is great as it means we can continue to work but if people don't take breaks then your eyes can suffer.  In turn this can then cause headaches and other problems.
The Problem
The primary business focus on acquiring new equipment tends to be around the purchase of new computers and software.  Buying the best of these often means that budgets for other devices such as monitors is greatly reduced.  We are all very guilty of not replacing monitors as often as we replace our computers.
While it can be a contested issue whether monitors degrade over time it doesn't mean that their quality isn't as good as modern monitors.  This can mean that the time has come to renew your monitor.
How much does this cost your business?  One person losing half an hour a week of productive time could be costing your business hundreds of pounds a year.
The Solution
Several manufacturers including BenQ have started developing specialist eye-care monitors.  While it would be sensible that all monitors are eye-care it would appear, they are not.  The BenQ monitors come with several features that our clients have found useful: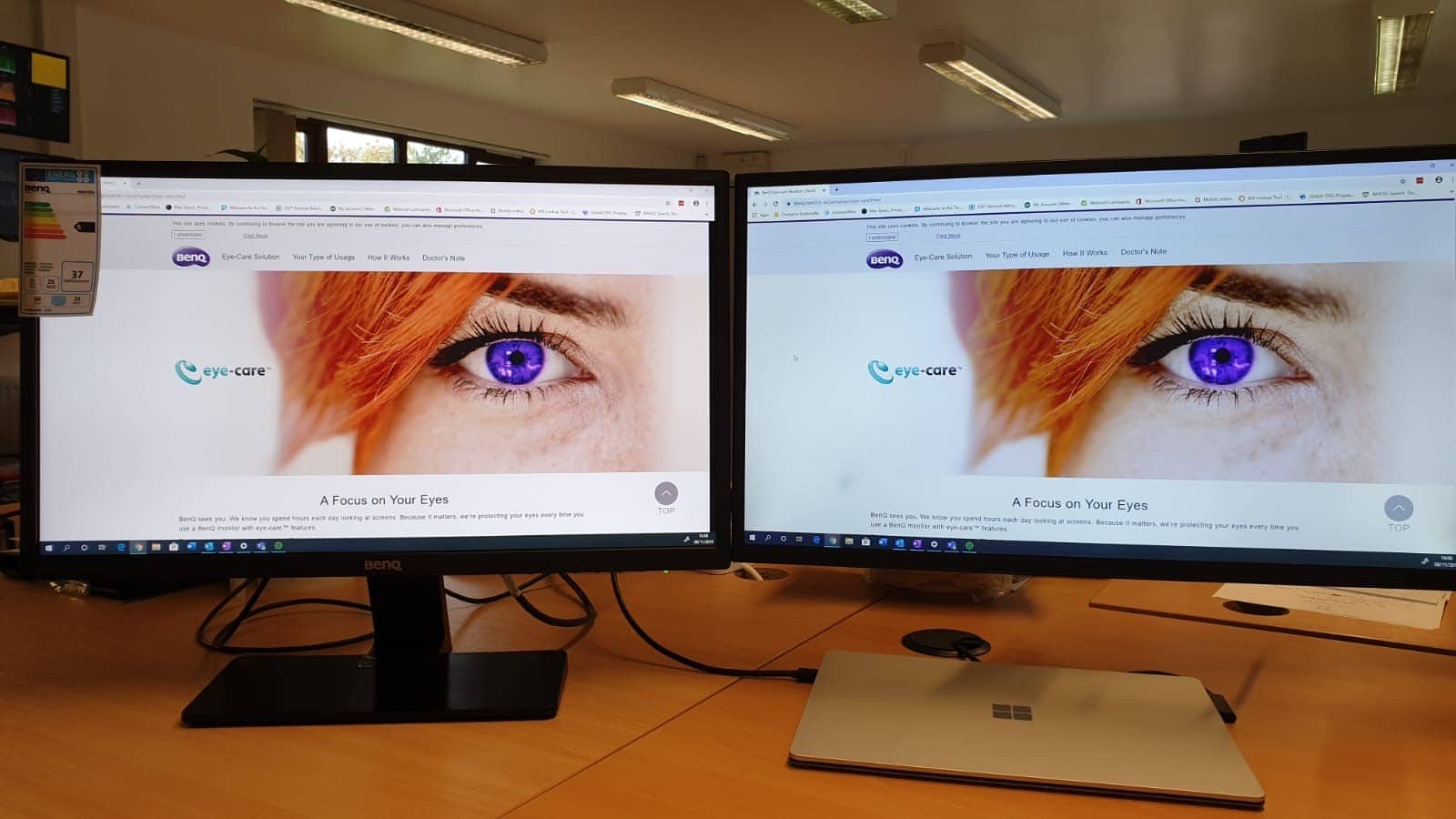 Brightness Intelligence
The monitor will adjust the brightness depending on the ambient light levels in the room.
Low Blue Light
Reduced levels of blue light which are reported to cause issues to eyes.
Reduced Flickering
BenQ say that their monitors have managed to move away from technology that causes unperceivable flickering that can hurt eyes.
What do people say?
This monitor has helped to alleviate my eye strain. I suffered with headaches and eye pain for over a year but within a week of using the Eye Care Monitor the pain has almost gone away entirely.
Financial Services
What next?
Get in touch with us to find out how we can help you.
We are able to supply your business with hardware using our TaaS set up which means you could have all of your new hardware cost spread over a 3 year plan.