Whether business or personal the chances are you have used Zoom, Teams or Google  over the last year, but what platform is best? Having used all three platforms to differing degrees this is what we think are the Pro's and Con's of the different platforms.
Zoom
It seems that Zoom has become synonymous with online meetings and now often appears to be a verb for the process of online meetings. For many of us we hadn't even heard of Zoom before last March but now its everywhere, and there is a reason for that.
Pros – most people seem to either use zoom on a regular basis or at least have used it at some point. This means that if you send a zoom meeting to someone they will probably have a good chance of connecting.
Pros – Zoom was fast acting last year getting features such as breakout rooms widely available.
Cons – Many features like meetings longer than 45 minutes, SSO and transcription require subscription and sometimes minimum number of users.
Cons – several security concerns over the last year.
Microsoft Teams
For the avoidance of doubt, here I am reviewing the paid for version of Teams which is part of Microsoft 365. Now while teams can do video conferencing it is only a small part of the overall product whereas Zoom and Google Hangouts video conferencing is the primary feature.
Pros – No additional payment required, it is just part of Microsoft 365.
Pros – Contains lots of useful business features such as transcription, recordings going to Microsoft Stream and now together mode as standard.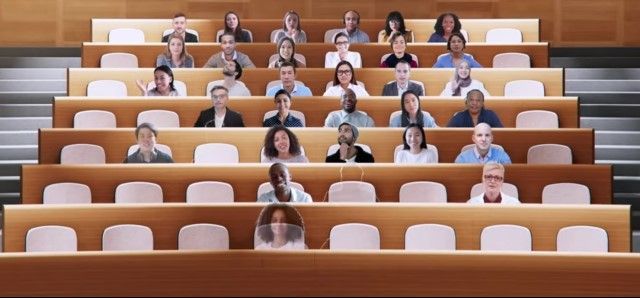 Cons – As this is a small part of the overall feature set of Teams, and as such Microsoft was slow at rolling out some features that competitors like Zoom had as standard. (e.g. Breakout Rooms).
Cons – While Microsoft has made some significant improvements with access by non-365 users some people still struggled to get into meetings.
Google
From my experience this is probably the least used platform out of the three. I have only been invited to meetings in Google and never had to actually arrange them.
Pros – Out of the three I would say that Google is by far ahead of the others on the ability to have a nice simple interface.
Pros – Google Meet comes as part of the Google Workspace subscription
Cons – Invite links appear to go on all meeting invites and I have often received emails from suppliers who end up having google and zoom links in their emails.  This could be something that can be turned off but if it is then it would seem most Google users don't know how to.
Cons – not as well known as the others
Our Verdict
Each platform has its place. Zoom is great for networking and meeting with groups of external people whereas we find Microsoft Teams better for business meetings. Zoom does have some nice features in the higher pricing bands but it is a minimum of 10 users and with those features already included as standard with 365, why pay twice? Likewise if you are a Google Workspace user than it makes sense to use Google more.
More detailed review
This is only a quick view of the platforms based on my personal experience.  What is clear is that the last 12 months have seen a lot more use of Video conferencing and all of these manufacturers working hard to release more features.  Gartner is an independent body who review different industries and compares them objectively. 
You can find out more about what Gartner say about these through their Magic Quadrant report for Meeting Solutions (Oct 2020)