In June Microsoft announced the launch of Windows 11. This took many of us by surprise, as Microsoft had promoted Windows 10 as the "last version of Windows"! Best laid plans and all that …
So, what does Windows 11 have in store for us?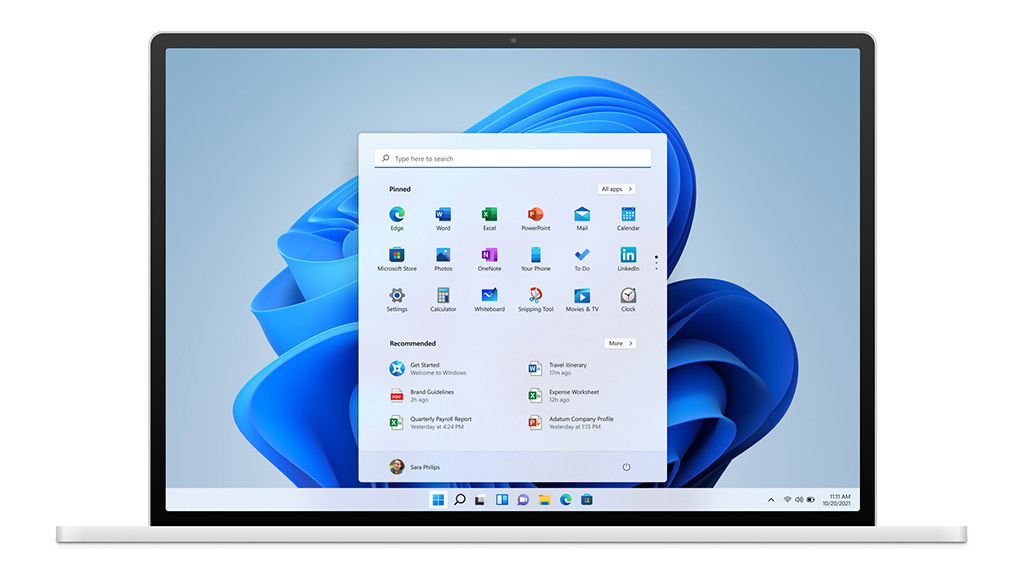 When will Windows 11 be available?
The launch date is 5th October 2021.
What's new in Windows 11?
There appear some interesting changes coming with Windows 11:
A fresh new look called "Fluent Design". This incorporates more themes and wallpapers to personalise your experience.
The start menu has been moved to the centre of the screen and changes according to the time of day and activities you're working on.
The taskbar (now renamed "dock") has been optimised for touch as well as mouse users. Like the start menu, the widgets in the dock (eg weather, maps, news) dynamically change throughout the day.
New "Snap Layouts" enable you to multitask more effectively, with options to arrange multiple windows across the screen in different configurations.
The Snap Layouts are further enhanced by "Snap Groups" which allow you to return to previous configurations of snapped windows.
Improved voice and handwriting recognition.
Windows Updates will be smaller and you'll see an estimated installation time so you can decide whether to update now or later.
Greater integration with Microsoft Teams, Outlook and Calendar, making it easier to join meetings, calls or chats.
A redesigned Microsoft Store, with content including Android apps from Amazon.
For those who use Windows at home, Windows 11 promises to transform the gaming experience. This includes improvements to accessing games, managing them and the speed of play.
What does Windows 11 look like?
You can see for yourself in this introductory video from Microsoft:
Will Windows 11 be free to current Windows users?
If you already use Windows 10 then you may receive a free upgrade to Windows 11. The rollout of the upgrade is due to start in late 2021 and continue into 2022.
If you use an older version of Windows you might be able to upgrade for free, but it is likely to require a clean install/reinstall on your PC, which will remove your apps and settings. If you need support to do this, please contact us.
Is my PC Windows 11 compatible?
You can check this through the Microsoft PC Health Check app.
Most business PCs should be compatible, however older devices and home computers may not be. If you're concerned about compatibility, then call one of our team on 01732 600 170 and we'll be able to help.
What devices will Windows 11 work with?
Microsoft assure us that Windows 11 will work on "all your favourite brands", including Acer, Asus, Dell, HP, Lenovo, Microsoft Surface and Samsung.
One of the problems which Windows 11 purports to fix is the experience on tablets. It promises an improved touch experience including touch keyboard and dictation upgrades.
Windows 11 also appears to be another step towards Microsoft having their own phone operating system.
What if we have problems with Windows 11?
So long as you do it within 10 days of upgrading your computer, you will be able to downgrade back to Windows 10. After 10 days, you will need to do a clean install to go back to Windows 10, which will mean losing your settings and apps.
How does this impact Heliocentrix clients?
When the Windows 11 rollout begins we'll review its performance and feedback from users to assess whether it's the right fit for each of our Managed IT Support clients.
Where the decision is made to switch to Windows 11, we will ensure that upgrades are installed smoothly alongside any additional training requirements. Equally, we will consider the Windows 11 option for any new client set-ups from October onwards.