In July Microsoft publicised the launch of Windows 365, although their earlier Windows 11 announcement rather stole the limelight.
Windows 365 is a significant development for organisations looking to support more flexible ways of working and thrive in a hybrid world.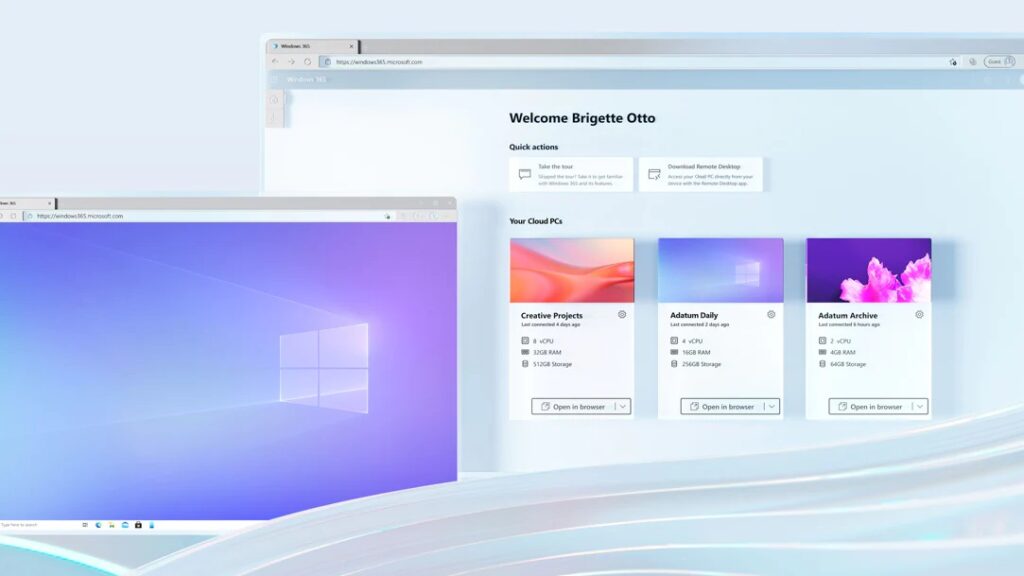 What is Windows 365?
Windows 365 is a virtual computer hosted in the Microsoft cloud, called a "Cloud PC". You can access your Cloud PC from any device, including those running macOS, iPadOS, Android or Linux operating systems.
When you log into Windows 365 via the Cloud PC website, it immediately streams your desktop, apps, data and settings to your device. So, you can start work on your office desktop, then pick up exactly where you left off on your iPad or phone.
Because you're not downloading data onto your computer, you don't have the wait times you might experience with, for example, One Drive. Everything is instantly available as it always remains on the cloud.
Will Windows 365 work on my device?
Probably, yes. It's compatible with Windows devices using Windows 10 or Windows 11, and macOS, iPadOS, Android or Linux. You need to have a browser that supports HTML5 (most do) or the Microsoft Remote Desktop app to run it from.
If you're accessing it over wifi then the connection speed needs to be good enough to stream a video.
Is Windows 365 free?
No, a licence is required for each user.
The licensing model is similar to that for Microsoft 365, with a fixed price for each user per month.
"Business" level subscribers can have up to 300 users with three levels of capacity/functionality.
"Enterprise" licences include unlimited user numbers, again with three levels of performance. It also has greater integration capabilities, for example with Microsoft Endpoint Manager and Azure Active Directory.
Contact us for the latest pricing information.
Note that Microsoft did initially offer a free trial period, but this is now on hold as they have "reached capacity".
What are the business benefits of Windows 365?
As hybrid working becomes more common, there can be a 'jarring' moment as users switch between devices. It isn't always easy to pick up where you left off, which can waste time and cause frustration.
Windows 365 improves productivity by ensuring that users receive an identical experience whether logging back onto the same device or a different one. When switching from office, to train, to home, to client meeting – they can get straight back to where they left off.

Further supporting flexible working, a single user can have multiple Cloud PCs assigned to them. Useful, for example, for contractors who work across several different companies.
Finally, the storage of all data on the Microsoft cloud is an excellent option for disaster recovery planning.
Windows 365 and education
Microsoft haven't yet revealed a pricing model specifically for education, but in principle this could be a great solution for schools, colleges and universities.
The cloud-based nature of Windows 365 enables students to have a consistent experience whether using a PC at school or at home. The security benefits for businesses also translate well to the education sector.
The security benefits of Windows 365.
All the data held on the Microsoft cloud is encrypted, and this encryption extends to data in transit between the cloud and your device.
Using Cloud PCs removes the security risks caused by users logging onto your company network using their personal devices, because they only need to go to a browser to access their Cloud PC. System administrators for "Enterprise" users can also prevent data in the cloud from being copied onto users' devices.
Is Windows 365 right for my business?
Windows 365 is an ideal solution for organisations who are operating a hybrid working model, with a workforce who have multiple places of work.
But it isn't just for large organisations, a sole trader who relies on both a home PC and portable devices will reap the rewards of a more agile way of working. And, as we've discussed, this could also be a very practical solution for educational institutions.
If you're considering Windows 365, contact us to arrange a meeting to explore the features of Windows 365 and whether switching to Cloud PCs would suit your wider IT and business strategies.